Stories from Kaziba
Again this month we would like to share with you the story of a child you have helped to raise. At the Kaziba Orphanage there are 52 children from the ages of 0-8 who live every day at the orphanage. However, there are also several children who are fostered to families in the community who are supported by the orphanage.
One of these children is now a young man. His name is Murhabaza Kahamagarwa.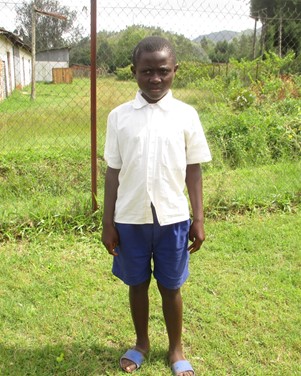 Murhabaza was orphaned as a young child. His mother M'namukama passed after the birth of her son and then his father was killed a couple of years later, a victim of the violence that gripped eastern Congo for so long. As a result, Murhabaza has been raised by several different members of the community as foster families.
He is now 16 years old but is very small for his age and has only reached the 6th grade. This is due to several factors but mainly from the illnesses that plagued him as a child which kept him out of school and put him on a much slower growth rate than his peers. However, a smaller stature is not uncommon in the area due to the chronic malnutrition that many children of the DRC suffer from.
Murhabaza is now studying hard, loves school, and wants so badly to make an impact on his community. He wants to be able to continue his studies and become a doctor. He was inspired by the loving care he received as a child and also wants to help the rest of his biological family who have never had the economic means to care for him.
Murhabaza's story is like so many others in DRC. If you would like to help support children like Murhabaza, please visit our secure donation page HERE and select Kaziba under fund or mail a check to our new PO Box at: P.O. Box 962, Camas, WA 98607.
State of the Congo
The Democratic Republic of Congo is currently experiencing its worst food shortage since its last major armed conflict ended in 2008. According to the United Nations, approximately 7.7 million people are on the verge of starvation right now in DRC which rose 30% since last year. 43% of children living in rural areas right now are experiencing chronic malnutrition, a condition that will affect them for the rest of their lives. To read more about the food crisis go HERE.
DRC is also still dealing with consistent political turmoil due to the unwillingness of President Kabila to step down now that his final term in office is complete. Hundreds have died as a result of political violence but so far both Salisa Bana and Kaziba have stayed clear of any serious issues. HERE is an interesting opinion piece written earlier this summer about the issues facing the country and President Kabila.
It is important to keep in mind during these times of upheaval that we cannot afford to bury our heads in the sand or throw our hands up in helplessness at the scope of the problem facing us. We have to push forward. We know that these problems can and will be overcome. We have to continue to invest in the youth of DRC to help them create the better world that they deserve. We want to thank each one of you who has helped OFA to do our part to create that better world and ask that you continue to do so as we push forward. Please consider donating on our website or contacting us to find out how you can help.
Congolese Cultural Minute – Papa Wemba
Papa Wemba, known as the King of Rhumba Rock, was the DRC's and Central Africa's most famous singer until he passed away recently at the age of 66. He was famous for many things including his flamboyant dress sense, inspiring the movement now known as Sapeurs or Congo Dandies.
He rose to fame in his late twenties and has inspired generations of Congolese and African artists who have popularized Rhumba music (not to be confused with DJ Roomba of Parks and Rec fame) around the world. Papa Wemba also collaborated with American artists like Stevie Wonder and Peter Gabriel.
Check out some of his hits here and spread the word.