Children of the Kaziba Orphanage
One of the things that OFA believes to be incredibly important to our relationship with those who have given so much of themselves for us to be successful, is to allow them to get to know the children they are helping to raise. In a sense, all of our donors are parents or family members to the children of the DRC because they provide the resources pivotal to helping these kids to grow up to be the future of their country. With this in mind, over the next few months we will be sending out information about the children who are helped every day by your incredible generosity.
One brief warning, some of these children arrived at Kaziba as orphans because of unthinkably terrible things that happened to their parents in a country and region fraught with conflict. This is one such story.
This is Amani.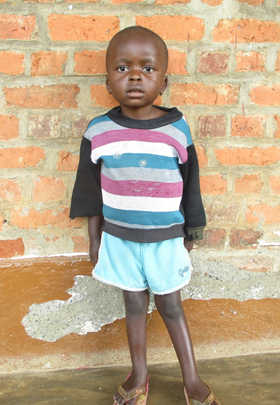 Amani turned four in April and came to the Kaziba orphanage when he was just two months old. He is an incredibly kind child who has shown massive passion for life. Amani came to Kaziba because his father disappeared but is thought to have been killed by a militia. After his disappearance, Amani's mother, Nsimire, was found to have hung herself in her home. His young life was marked by tragedy but he was given a home and loving care at the Kaziba Orphanage.
When Amani was told by Flavien Muherekeza, the administrator of the Kaziba Orphanage, about the help they receive from the OFA Family, he was adamant that they know how thankful he is for all of them. Since arriving at Kaziba, Amani has been fairly healthy and loves play times and sports. At his young age he is as yet unsure about potential career choices but definitely something with soccer. Flavien tells us that, like most children his age, other than play time, meal time is his favorite. Amani is lucky in that some of his family still live nearby and are able to visit him from time to time so he can learn more about where he came from and receive the support he needs for a bright future.
If you would like to help support children like Amani, please visit our secure donate page HERE and select Kaziba under fund or mail a check to our new PO Box at: P.O. Box 962, Camas, WA 98607.
The Roof is on at Salisa Bana!
The school year is coming to a close at Salisa Bana and the children there, just as in the US, look forward to a measure of freedom once again. As mentioned in our last update, repairs to the damage wrought by the tornado are underway and progressing speedily. I once again need to thank all of you who have given so graciously to keep us on our feet.
The roof has been repaired and new solar panels are being installed to bring much needed electricity back to the site. Students and staff need it for light but probably more importantly it is needed for the pump on the well that provides fresh water to the school and the community. The students have been thrilled to return to their classrooms and get out of the rain as the rainy season comes to a close.
One area that we still have great need in however, is an item required for traditional learning around the globe: desks. Almost 100 student desks were destroyed by the tornado and even before we lost those, students were often forced to share due to lack of resources. Right now we need your help furnish our classrooms and bring them back to a proper standard for learning. Each desk costs $25 so we are hoping to raise $2,500 by the end of June to make sure that our students can have a strong end to the year. If you are able to help in this initiative please visit our secure donate page HERE and select Salisa Bana under fund or mail a check to our new PO box at: P.O. Box 962, Camas, WA 98607.
New PO Box and Mailing Info
Important info: OFA has a new PO Box! It is now 962 instead of 626 so please send all future mail to:
Our Family in Africa
P.O. Box 962
Camas, WA 98607
Otherwise city and zip code have not changed.
With thankfulness in our hearts,
Dylan Smith